Song of Laila
Music to Lift the Heart
voice, mountain dulcimer, pennywhistle and more


She is the song, the singer, the note,
And the love which is given without asking for anything in return,
Or without holding anything in reserve….
Listen - Come All Ye Lovers
********
"... Laila is a true born musician/ healer.
Music just pours from her, as do songs and lyrics that speak straight to the heart.
And in her leadership service, she is articulate and generous and kind.
..if nothing else, I always feel healed by the mere sound of her voice.
Amy Fradon
Vocal Coach, Singer, Interfaith Minister
Women in Love with the Divine
a concert with Katy Taylor and Laila Brady Walzer
with Amy Fradon
Wednesday, July 18th
7:30 PM
$20
seating limited; come early

Through sacred chant and original, Celtick-y and sacred song,
may the door of your heart slip open.

In Sufism, "Laila" is the deep secret love of God, that fierce and sweet song that stirs the heart for union with the Beloved. Through angelic voice, mountain dulcimer and prayerful intent, Laila Brady Walzer joyfully reminds you Who you truly are.

Katy Taylor performs original and medieval chant and song that weaves Celtic ornamentation with haunting, mystical invocations and prayers. Her voice creates a bridge between heaven and earth, calling down the angels from on high to join hands and hearts with the goddess of the earth.

Known and deeply appreciated in the Hudson Valley for years, Amy Fradon puts the very essence of her entire being into song. She lifts you up into a higher plane with her beautiful, larger-than-life voice. Amy is honored to be supporting Katy and Laila as they weave the divine.
In the Sufi way, "Laila" is the deep secret love of God, that fierce and sweet song which calls you to walk more and more deeply in your search for union with the Beloved. May this music open the door of your heart and lead you to your heart's desire.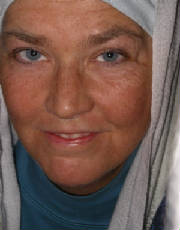 Laila Brady Walzer
Laila Brady Walzer's deep joy and honor is to sing from the soul, reminding people Who they truly are. She is a teacher in the Shadhuliyya Sufi way, a tradition which has included many poets and musicians as well as healers. When she writes, her intention is to open the door to deeper levels of inspiration and healing for the listener, whether sublime or humorous. She often accompanies herself on mountain dulcimer, the Irish pennywhistle, the bodhran (Irish goatskin drum) and guitar. Singing and writing music since the age of two, her deep love and inspiration now is sacred Sufi chant for healing.
What people say about Laila's music
" If you ever wondered what it is like to hear an Angel sing............. listen to Laila."
"Laila's voice is like the song of angels. Her voice exudes holiness, joy, transporting you to place within your heart of exquisite beauty and healing."

"Laila's voice is a clear and angelic gift to all who have the pleasure of hearing it. The joy and love of Allah come through in every note. "

"Laila is a multitalented, spiritually centered musician whose music goes straight to the heart of the matter. Whether in a song like "The Hollow Flute" which leaves one quietly contemplative and filled with the truth of the song of the Creator, or the Supplication Doggie being "seven kinds of cute" she brings a unique perspective which causes one to sit up and take notice. Her inventive accompaniments on the mountain dulcimer add to the delight of hearing Laila share her musical and spiritual gifts."

- Susan Trump,
Performer, Recording Artist, Multi-instrumentalist, Songwriter

"Listen to Laila... The sweet vibration of Allah's Holy Love softly comes to your heart, its door opens to its own sacred oneness, and His Peace then surrounds.
Listen to Laila... the honey funny humor of living will trip and skip through your being, confirming your path."

Her CD Song of Laila can be purchased
at Sufigifts: 707.965.0700, X13.
about Laila Brady Walzer
"He created the people out of resonant clay – earthenware -"
Quran Surah Rahman : 14
Are you longing to make a deeper connection with your dhikr of Allah?
Do you feel shy or uncertain about chanting or reciting out loud?
Do you feel yourself drawn to lead others in al wird and other chants and are searching how?
Check out this YouTube video to get a feel for what you will learn and experience:
Singing for Allah - Life Long Learning program

CUT AND PASTE - https://www.youtube.com/watch?time_continue=1&v=DAA0hNmR2P8
with Laila Brady Walzer and Salima Adelstein

Connect deeply with and through the holy vessel of our body, and our deep spirit, to bring out sacred and healing sound, as our heart longs to do. Bathe in afternoon zawiyyah to quietly deepen in the teachings and the walking.
Part One lays the foundation. Part Two helps the participant deepen, and also apply what s/he has learned to effectively lead others in our "out-loud" practices.
You will be led through:
Easy practical tips on making sound
Fun and profound body-oriented exercises
Deep teachings from Sidi and the Quran as to our true nature
Confidence-building practice
Immersion in Sidi's new release Walking the Path of Sufism through afternoon zawiyyah
Part One lays the foundation
Part Two helps the participant deepen, and also apply what s/he has learned to effectively lead others in our "out-loud" practices:
Or register for both and save!
Go here to register for the program:
http://sufiuniversity.org/programs/divinesong/

Questions? Contact info@sufiuniversity.org
Program Information:
Tuition $475 for one, $825 for both (Travel, room and board not included)
Location: Farm of Peace, Warfordsburg, PA
Click here for more information on the Farm of Peace, or to book your accommodations contact info@farmofpeace.com
Dates:
Part One: June 22-24
Part Two: June 25-27
Part One and Two: June 22-27
Laila Brady Walzer, M.Div., loves to help midwife sacred utterance in others. Her musical experience includes improvisational and body-oriented singing, as well as classical, traditional Irish, and other folk music. She earned her Master's in Divinity from the USHS and has a B.A. in Music. For the last 17 years a major focus and delight have been Sufi and Quranic sacred chant. She is a Muqaddim Mirrabi-Ruhi in the Shadduli Sufi way under Sidi Muhammad al-Jamal.
Maxine Salima Adelstein M.Ed., D.D., helps people to discover and embody the deep truth of their beauty and essence through her work as a healer and teacher. Ms. Adelstein is Dean of Education, chair of the Department of Spiritual Ministry and Sufi Studies and a faculty member of the University for Spiritual Healing and Sufism. She is a master healer who has helped hundreds of clients heal from illness and lifelong emotional pain.