Song of Laila
Music to Lift the Heart
voice, mountain dulcimer, pennywhistle and more


She is the song, the singer, the note,
And the love which is given without asking for anything in return,
Or without holding anything in reserve….
Listen - Come All Ye Lovers
********
"I believe Laila is a true born musician/ healer.
Music just pours from her, as do songs and lyrics that speak straight to the heart.
And in her leadership service, she is articulate and generous and kind.
..if nothing else, I always feel healed by the mere sound of her voice.
Amy Fradon
Vocal Coach, Singer, Interfaith Minister
In the Sufi way, "Laila" is the deep secret love of God, that fierce and sweet song which calls you to walk more and more deeply in your search for union with the Beloved. May this music open the door of your heart and lead you to your heart's desire.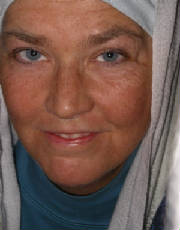 Laila Brady Walzer
Laila Brady Walzer's deep joy and honor is to sing from the soul, reminding people Who they truly are. She is a teacher in the Shadhuliyya Sufi way, a tradition which has included many poets and musicians as well as healers. When she writes, her intention is to open the door to deeper levels of inspiration and healing for the listener, whether sublime or humorous. She often accompanies herself on mountain dulcimer, the Irish pennywhistle, the bodhran (Irish goatskin drum) and guitar. Singing and writing music since the age of two, her deep love and inspiration now is sacred Sufi chant for healing.
What people say about Laila's music
" If you ever wondered what it is like to hear an Angel sing............. listen to Laila."
"Laila's voice is like the song of angels. Her voice exudes holiness, joy, transporting you to place within your heart of exquisite beauty and healing."

"Laila's voice is a clear and angelic gift to all who have the pleasure of hearing it. The joy and love of Allah come through in every note. "

"Laila is a multitalented, spiritually centered musician whose music goes straight to the heart of the matter. Whether in a song like "The Hollow Flute" which leaves one quietly contemplative and filled with the truth of the song of the Creator, or the Supplication Doggie being "seven kinds of cute" she brings a unique perspective which causes one to sit up and take notice. Her inventive accompaniments on the mountain dulcimer add to the delight of hearing Laila share her musical and spiritual gifts."

- Susan Trump,
Performer, Recording Artist, Multi-instrumentalist, Songwriter

"Listen to Laila... The sweet vibration of Allah's Holy Love softly comes to your heart, its door opens to its own sacred oneness, and His Peace then surrounds.
Listen to Laila... the honey funny humor of living will trip and skip through your being, confirming your path."

Her CD Song of Laila can be purchased
at Sufigifts: 707.965.0700, X13.
about Laila Brady Walzer